Why Knowing Who You Write Like Really Matters!
Whether you're a self-published writer or are aiming to attract a traditional agent or publisher to your project, knowing who you write like can make all the difference between a successful book launch and a flop.
In "Let's Get Visible: How to get noticed and sell more books," David Gaughran advises that the majority of readers are looking for new books that are similar to those written by their favorite authors. Most literary insiders like Gaughran agree that identifying the authors whose style of writing is similar to your own is the first step in pitching your title effectively.
But how do you know who you really write like?
Thanks to ScoreIt!™, Inkubate's proprietary, language-based technology, developed in partnership with Duquesne University, your authorial "fingerprint" can now be instantaneously assessed and matched to the commercially published titles—and authors—sharing your style of writing.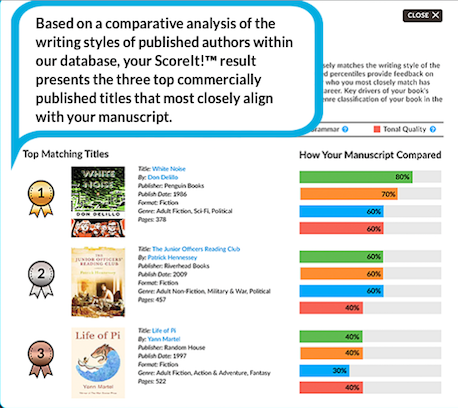 In just one click, your ScoreIt!™ analysis also displays genre classification for each matched title as well as the publisher of record, publishing date, sales data and author bio, all of which provide valuable intelligence on your writing potential.
If you'd like to learn more about the science behind ScoreIt!™, download our whitepaper. If you'd like to identify your writing style today, log onto Inkubate, upload your manuscript and click the ScoreIt!™ book icon in your title toolbar.
Want to share our awesome technology with your writer colleagues? Please do! Our Twitter handle is: @InkubateDotCom Our Facebook page is: /Inkubate.