ScoreIt!™ in Four Easy Steps!  
ScoreIt!™ is the first patented technology of its kind to objectively analyze the writing style of an author and compare it to commercially published authors so that they can see who they write like.
She Confessed, Didn't She? is a novel by T. Matt Ryan, who ran his work through ScoreIt!™ recently because, as he told me, "Someone is always asking me, So, who do you write like?"
So, here's how easy it was for Ryan to run a ScoreIt!™ Analysis on his work.

 Logged in as an Inkubate writer, Ryan uploaded his manuscript to the My Work section of his dashboard, shown below:


 Ryan clicked the green ScoreIt!™ icon  

next to his title to launch our ScoreIt!™ Analysis platform, shown here.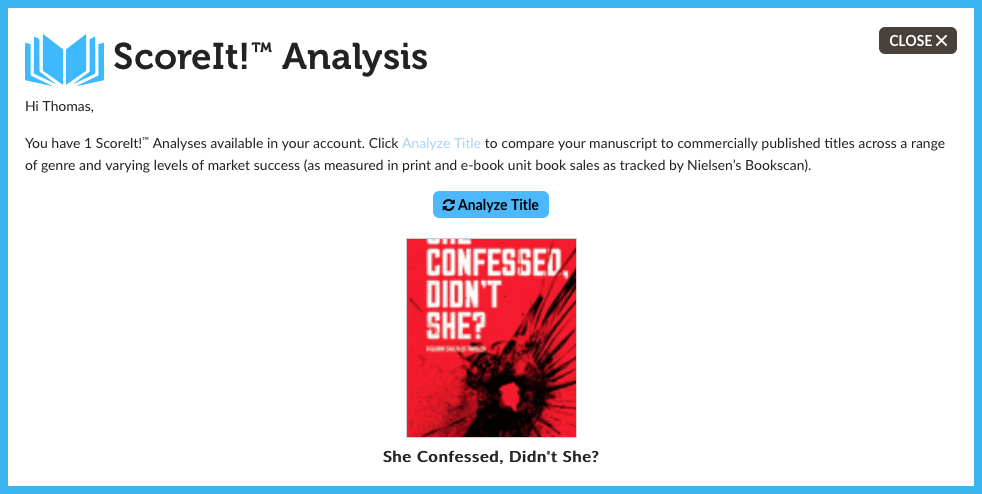 As Ryan clicked the blue

 button above, his manuscript was ingested into the cloud, analyzed by ScoreIt!™ and, in a matter of seconds, a comprehensive fingerprint of his writing style was generated. Below is the ScoreIt!™ report that Ryan received.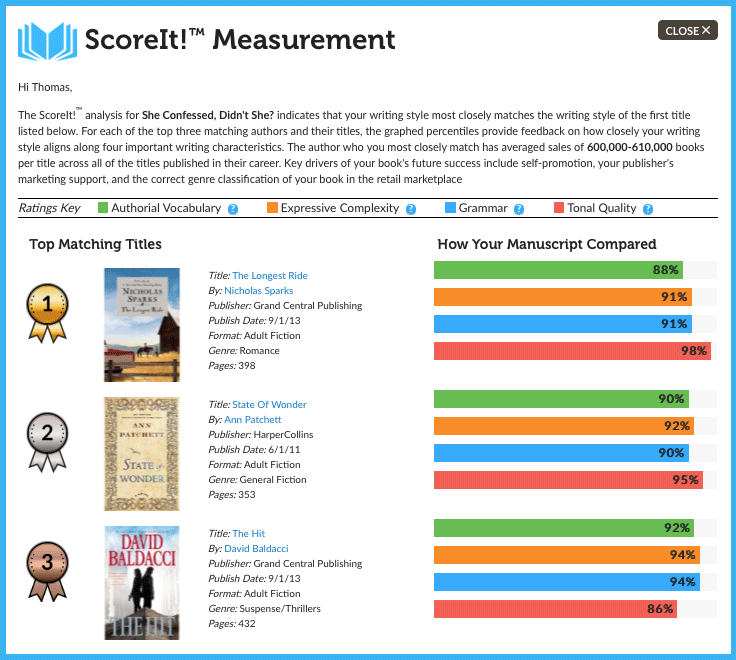 On the left of the report are Ryan's three closest writing style matches from our comparative corpus of commercially published authors. The book jacket covers and links to both the titles and authors on Goodreads are provided so that Ryan can learn more about the content that is similar to his own.  At the very top of the report, ScoreIt!™ also returned the career average unit sales data for Ryan's top match.
On the right of the report, Ryan can see how his manuscript compared to his three matches in the areas of authorial vocabulary, expressive complexity, grammar and tone. These are terms of art relating to stylometry, the science underpinning our technology. If you'd like to learn more about these four features, download our Whitepaper.

 Ryan's ScoreIt!™ History is accessible when clicking the blue "quick-view icon"  

 next to his title. When he does, this view, below, appears showing where to click on his ScoreIt!™ History.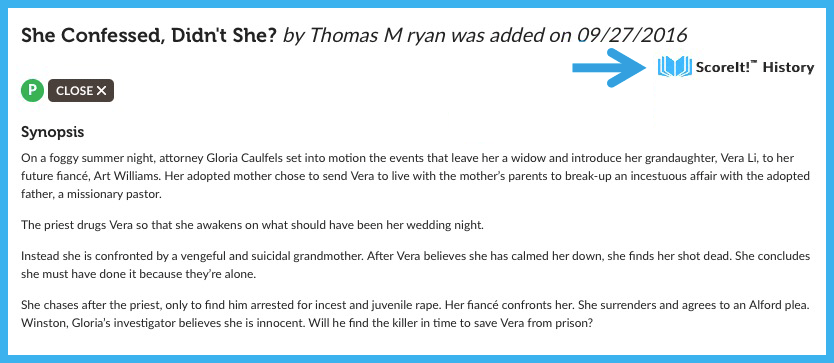 It's as simple as that!
Have you run your ScoreIt!™ analysis yet? If not, what are you waiting for? Sign on to Inkubate here and please don't hesitate to reach out to me with questions or comments on Inkubate's groundbreaking technology for writers. I can be reached at stacy@inkubate.com.
T. Matt Ryan lives in Washington State with his wife, Pat. "She Confessed, Didn't She?" is a companion novel to "The Revenge of the Banker's Daughter." Ryan's author site is MattRyan.com. The cover artist for his books is Nick Johnson (nick@cimacreative.com).
Stay tuned for our upcoming blog concerning ScoreIt!™ as a compelling book marketing tool.
In the meantime, follow us on Twitter and like us on Facebook to stay up-to-date on our evolving technology.