Inkubate Sponsors Woodstock Writers Festival Story Slam, Publishers Panel & a Golden Ticket Give-Away!
For its fourth consecutive year, INKUBATE pulls out all the stops to support writers and one of its own founder's—Stacy Clark—who will be a featured author and presenter at the weekend's fabled Story Slam.
Martha Frankel, Founder & Executive Director of the Woodstock Writers Festival and host of Woodstock Writers Radio, reports that for corporate sponsors of the festival, the Story Slam is a premier opportunity to socialize with talented up-and-coming writers.
"The Story Slam venue has been so popular that we've made it a bi-monthly event," Frankel said. "So many talented regional and national writers have stepped up to the mic and blown the roof off of the Kleinert/James Center! It's been sensational."
As part of our sponsorship, over 300 Prize-Winning Golden Tickets will be distributed at the Festival. For full-weekend pass holders, workshop writers, featured panelists and VIPs, Golden Tickets will be discovered inside of a handcrafted, custom wrapped Fruition Chocolate bar.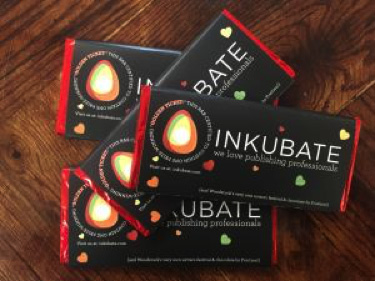 One lucky grand-prize winner will receive a 'Year of Books' from The Golden Notebook, Ulster County's beloved independent literary hub. Six attendees will win Premium Dining Prizes to enjoy at Oriole 9, Joshua's and Shindig. 300 fans of fiction and non-fiction will claim hot coffee and tea at Woodstock's beloved morning destination, Bread Alone.
INKUBATE is proud to also sponsor the Festival's Publishing Panel. Moderated by former Doubleday Editor Nan Gatewood Satter, featured guests include Penguin Random House Editorial Director Sara Carder, Diversion Books V.P. Mary Cummings, literary agent Ned Leavitt, breakthrough author Jenny Milchman and bestselling author of twelve critically acclaimed novels, Gail Godwin.
Featured festival speakers also include bestselling authors Jane Smiley, James Howard Kunstler, Guy Lawson, Benoit Denizet-Lewis and Ann Hood; the multiple Edward R. Murrow Award-Winning journalist Joe Donahue; Lou Reed biographer Will Hermes; and the 1970s music writer & iconic photographer of the band, Blondie, Chris Stein.
At these and other events throughout the weekend, INKUBATE will demonstrate how its B2B collaborative network enables writers to upload, categorize, edit and pitch original manuscripts to traditional agents, editors and publishers looking to discover and market successful projects that sell.
Showcased two weeks ago at the Independent Publishers Guild's (IPG) Spring Conference in Great Britain, INKUBATE's network was celebrated as a Top Innovator in the content creation and commercialization space and received high praise from leading publishers interested in receiving targeted mini-pitches from writers.
IPG will promote INKUBATE to its membership at the London Book Fair (LBF), where, in April, a formal launch of Inkubate V2.0 is scheduled. INKUBATE's CEO Jay Gale and CMO David Bass invite Festival members attending LBF to visit them at Stand 6E10 to explore further why INKUBATE is "The Place to Go for Talent."