"Getting Discovered Should be Easier!" We agree.
We are happy to report that Inkubate V2.0 went live early this month. Our platform's newest features include bold graphics that display for writers the frequency that their work or profile has been viewed by agents, editors and publishers (AEPs). The data also tracks the number of times a title has been added to an AEP's digital bookshelf and the number of profile views that an author has attracted.
Happily, our PitchIt!™ platform is now operational for writers who choose to promote their work to AEPs by deploying a 140-character message.
To give you an idea of how PitchIts!™ work, here's a look at my writer account on Inkubate. On the bottom of my writer dashboard, you can see three of the titles that I have added: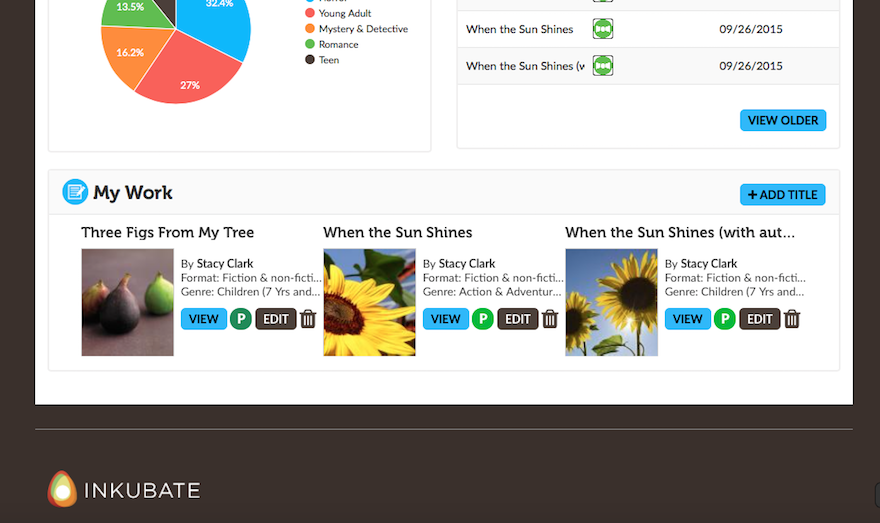 See the green P icon appearing next to each title? Clicking the P opens up Inkubate's Pitchit!™ composition box. For my work, When the Sun Shines, I created the PitchIt!™ shown below: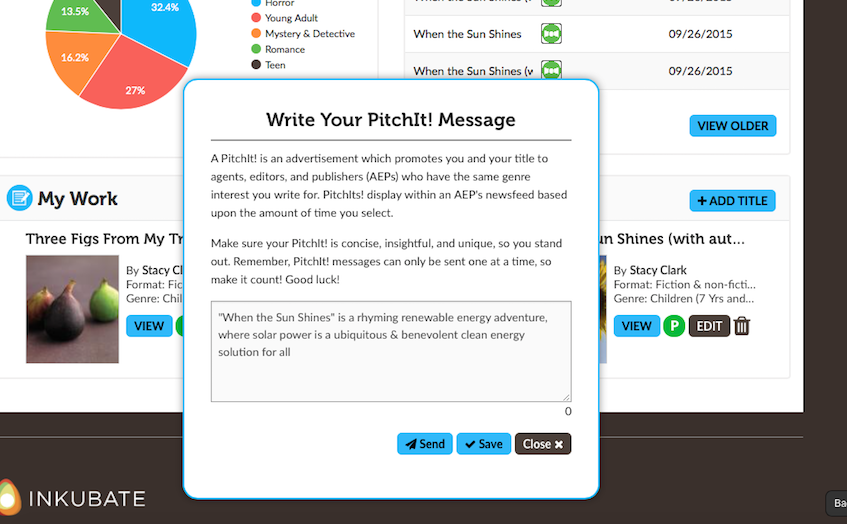 I could have saved my PitchIt!™ and reviewed it later, but I'm impetuous and decided to set it free. The platform thanked me for my efforts, because Inkubate is a very friendly site!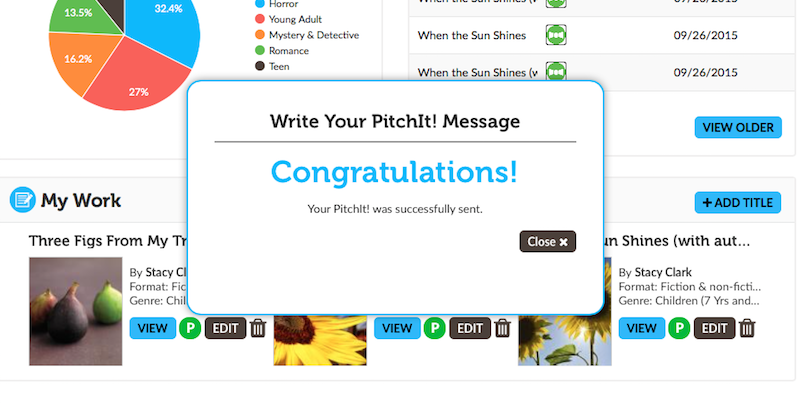 If an AEP deems my PitchIt!™ compelling enough, they may click through it to review my work and my writer profile. If they like what they see, they may initiate a conversation with me, using Inkubate's internal messaging center. Fostering connections like these is what Inkubate is all about.
It's really that easy.
We've been told that Inkubate is like a LinkedIn social networking platform for the publishing industry. This is a flattering comparison. Please let us know what you think once you've had a chance to sign on!