Have You Run ScoreIt!™ Test Drive?
If you haven't yet run a free ScoreIt!™ Test Drive analysis, you're missing out!
ScoreIt!™ Test Drive analyzes your manuscript against the writing styles of thousands of commercially published authors and includes the genre associated with each of your top-three closest title matches. Below you can see what a Test Drive report looks like.
The report reveals how your writing style aligns to your top three matching authors. To unlock the authors and their titles, along with corresponding author biographies and title links on Goodreads, you may purchase a full ScoreIt!™ report here. The Goodreads links, which include your matched authors' websites and customer commentary for each title, provide insights on the keywords and marketing language used by the matched authors (and their publishers) to promote their books to readers. These keywords can assist you in formulating a compelling marketing ad for your title.
With your complete ScoreIt!™ report, you'll also gain access to the reviews readers have posted for your matching titles. These reviews also provide important perspectives on your matched titles that will help you tailor you book marketing campaign to attract new readers.
One example of a complete ScoreIt!™ analysis is shown below.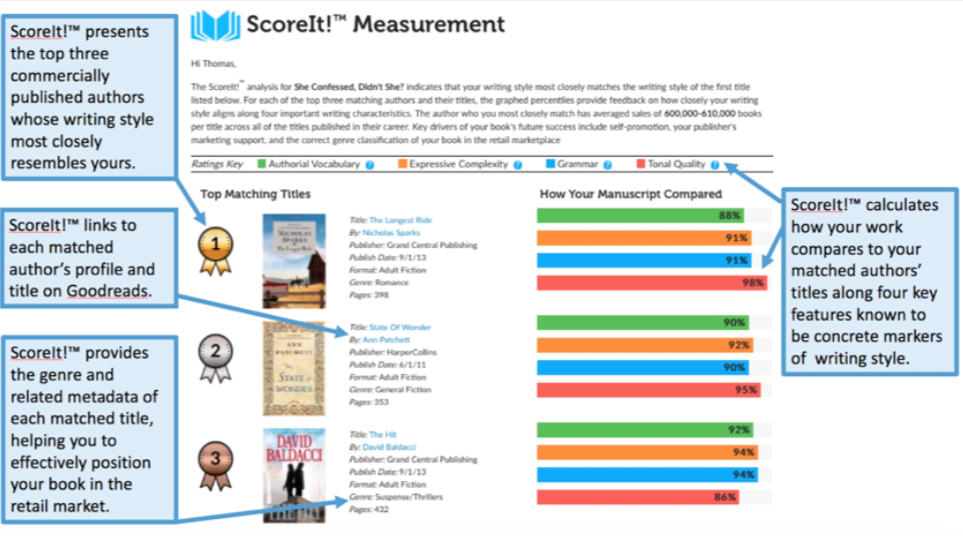 If you have any questions on ScoreIt!™ Test Drive or ScoreIt!™, please reach out to me at stacy@inkubate.com.
On behalf of everyone here at team Inkubate, we wish you and yours a very Happy Holiday and a Healthy, Safe New Year!
SaveSave
SaveSave
SaveSave
SaveSave
SaveSave
SaveSave
SaveSave
SaveSave
SaveSave
SaveSave
SaveSave